When we first booked our trip to Disney World I had a little moment where I started to worry if my kids would be able to walk around all day every day for 8 days straight. When I checked at the prices for strollers at Disney World I was floored by the cost and started to do my own frugal research as to a stroller that both of my kids could sit down and take a break in without being overly bulky or heavy. Being a Kolcraft mom I had the opportunity to review the Jeep Overland Jogging Stroller which is absolutely perfect for Aubrey so I knew that I would turn to Jeep to again in order to find the best stroller for our vacation. As soon as I spotted the Jeep Wrangler Twin Sport All Weather Umbrella Stroller, I knew that it was a winner.
Do you have 2 little adventurers? Do they both want the front seat? The Jeep® Wrangler Twin Sport® is the perfect solution. This is the original Jeep Wrangler Twin Sport All-Weather Umbrella Stroller that keeps your children cool in the summer & helps keep them warm in cool weather. In warm weather, roll-up the inset to expose mesh for increased air circulation & to create a head rest. Parent cup holder stores your drinks. Independent reclining seats & sun-rider canopies give your children added comfort. Side storage bags hold extra necessities like diapers, wipes, snacks, etc. Quick, compact umbrella fold, 3-point quick release buckle. JPMA certified.
Features:
Seat pad to protect your child from the wind in cooler weather
Seat rolls up and creates a head rest during warmer weather
Mesh backing to increase airflow in warmer weather
Removable parent cup holder for drinks while on the go
Both seats independently recline 26 degrees
Two cargo bags for storage
3-point quick release buckle
The jeep arrived in a pretty long box and as I pulled the stroller out I noticed that it was almost completely assembled. All I had to do was attach the wheels, cup holder and canopy and it was ready to go.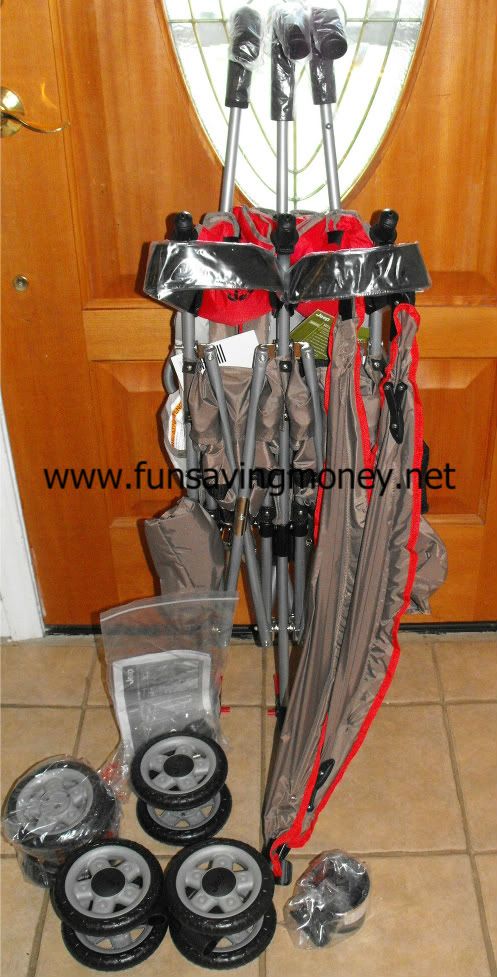 I was very excited to see that this stroller comes with lot's of "extra's". There are two different compartments on the sides of the strollers so your kids can keep their books, snacks or you can keep extra things like diapers and wipes. I also love the cup holder and have not seen many (if any) umbrella strollers with cup holders.

As I was reading through the instructions figuring out how to put the wheels on, my kids made themselves right at home. I was totally shocked to turn around and see that they kids were both sitting in the stroller watching their cartoon. It was to cute, that I had to snap a picture.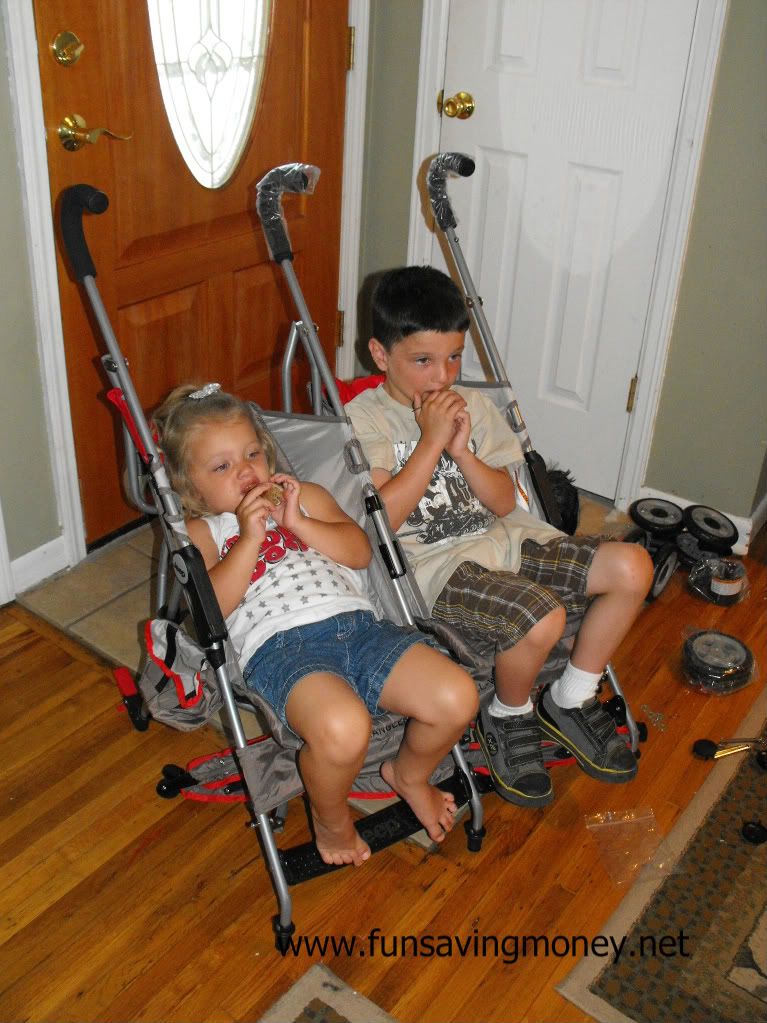 After I snapped this picture I was ready to get started. It took me about 10 minutes to full assemble the stroller. It couldn't have been easier, all you have to do is snap the wheels in and your good to go. The instructions were very easy to follow.
When I got everything set up I noticed that the seats actually recline. This was always the major drawback of umbrella strollers because my kids could never sleep in them without almost falling over. Now they can either sit straight up or reclined.
The seats also adjust to make your child more comfortable in hot or cold weather. If it's hot and sticky outside simply roll the back up and the back becomes a breathable mesh. If it's cool you can roll it down.
I am loving this new stroller and wished that I would have gotten it sooner. This is going to be the perfect stroller to take to Disney World because of how lightweight it is. We can push it around with ease and when the kids get tired than can take a quick break. It folds up very easily and doesn't take up much space at all.
If you have little ones and your looking for a stroller that is convenient, light weight and has all the extra perks then you have to check this one out. We love it!
Buy It: You can purchase the Jeep Wrangler Twin Sport All Weather Stroller on Amazon or at Toys R Us.
Win It:
One lucky reader is going to win their own Jeep Wrangler Twin Sport All Weather Stroller! ($129 Value)
To Enter:
Visit Kolcraft and leave me a comment telling me another product that you would love to have. (This entry is required before bonus entries will count)
Bonus Entries:
#1) Subscribe to my Email or RSS-3 Bonus Entries
#2) Follow me publicly on Google Friend and/or Networked Blogs- 2 Bonus Entries for Each
#3) Enter one of my other giveaways
#4) Blog about this giveaway and link back to this post and Kolcraft-5 Bonus Entries
#5) Vote for me on Picket Fence Blogs. You can vote x1 per day for an extra entry every day.
#6) Follow funsavingmoney on Twitter
#7) Follow Kolcraft on Twitter
#8) Tweet about this giveaway. You can tweet x1 per day. Just copy and paste this:
#Win a Jeep Wrangler Twin Sport All Weather Stroller
@funsavingmoney! #kolcraft #giveawayhttp://bit.ly/kOt65a
#9) Visit Kolcraft on Facebook and leave them a comment telling them a product of theirs that you like
#10) Place my Button on your blog-3 Bonus Entries
This giveaway will end on 7/15/11 at 11:59pm CST when I will randomly choose a winner using random.org. I will contact the winner by email and the winner has 48 hours to respond or a new winner will be chosen. This giveaway is open to US Residents only.
Like this site? Please Subscribe to Having Fun Saving Money by Email or RSS Feed.

Related posts: