Last week 15 bloggers including myself got the pleasure of going to Louisville, Kentucky to take a behind the scenes look at Kentucky Fried Chicken at their Headquarters. I wasn't really sure what to expect from my trip to the KFC Headquarters but I will tell you it was an eye opening experience and one that I will never forget. The one thing that I was surprised to find out was that Kentucky Fried Chicken is fresh and never frozen! That's right, the chicken that you buy at KFC is hand breaded and cooked right there in the restaurant.
I know that a lot of people, including myself, just assumed that because KFC is considered "Fast Food" that all of their chicken was breaded somewhere in a factory, frozen and then shipped to their restaurants throughout the world. This is not true at all. KFC restaurants get their chicken from companies that are local enough to deliver the chickens fresh straight to the store. In fact they get the chickens delivered fresh a couple of times a week.
Even though I was only in Louisville for 1 day I learned so much about KFC, the legacy of Colonel Sanders and how the company works. It's amazing what all goes on behind the scenes that many people don't know about. For instance, at the KFC headquarters they have a special room set up where people of the community can come in, test out different food products and give their opinions. This is just one of the ways that they determine whether they put something on the menu or not.


KFC also does a lot to give back to the community by giving away 75 scholarships every year as well as reuniting families. Colonel Sanders himself was a very generous man and known to give to others less fortunate than him. Knowing what it was like to struggle, he once picked up a hitchhiker and drove him to his destination which just so happened to be the local college. When he dropped off the young man he went straight to the admissions office and paid for his tuition in full. How amazing is that?!
I was also touched to hear about how KFC brought a military mom and her family together in one of their restaurants and gave them an extra special surprise. It was such a touching story that brought tears to many of us. You can watch the video about the reunion below but I warn you, it's a tear jerker!

Our first night in Louisville was fantastic! Everyone had the chance to meet up for dinner with all of the other bloggers as well as some of the PR team members from KFC. After dinner we all headed back to our rooms for a good nights sleep before our big day. The hotel was absolutely amazing and if given the chance I think I could have slept in that bed all day, it was so comfortable. The next morning everyone headed down to the lobby for a delicious breakfast and we got the chance to chat before we headed to the buses for our first stop, which happened to be a local KFC restaurant.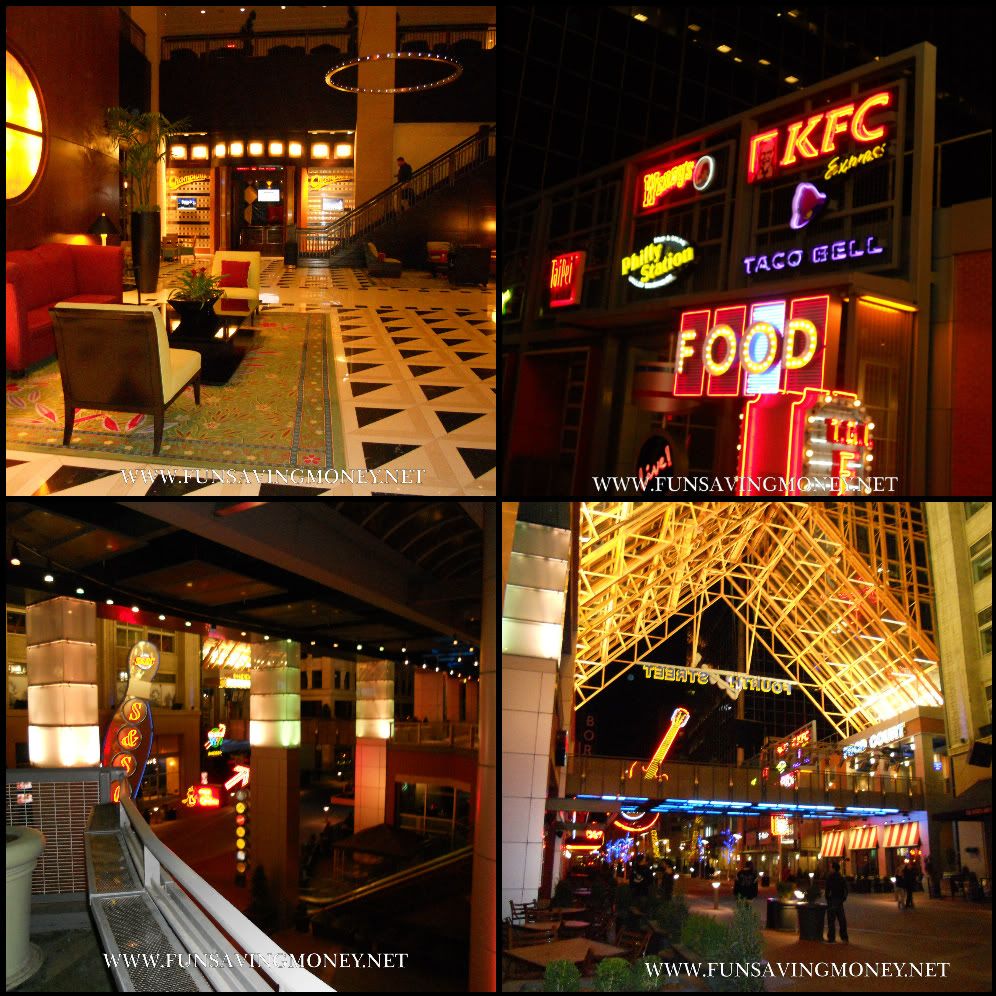 When we got off the bus there were several people waiting for us including a camera crew and photographer to capture all of the days events. It was a little awkward at first but everyone was so friendly and it was actually great to have someone help take pictures so we could really focus on our trip. At the restaurant we were able to tour the kitchen (hairnets included) and get a behind the scenes look at how KFC makes their chicken. It's actually a more complicated process than I first expected and a lot of attention and detail goes into making that perfect piece of chicken.
KFC Headquarters
Our next stop was the YUM headquarters which includes Pizza Hut, Kentucky Fried Chicken and Taco Bell. Here we got the chance to meet with some of the people that make up KFC, take a tour of the Colonel Sanders museum, meet KFC's head chef (which is a super nice guy!), get a chance to crack the secret code to the vault that holds the secret recipe, and even get the chance to make our own original recipe chicken.
I had an amazing time at the KFC headquarters and learned so much. Knowing that there bone-in chicken is fresh and never frozen and the fact that they hand bread in the restaurant makes me more of a fan of Kentucky Fried Chicken than I already was. Here are a few fun facts that I learned while I was there.
Most Chickens raised for KFC suppliers are raised by family farmers in a few chicken houses on their farm. KFC suppliers do not use growth hormones on poultry.
KFC Bone-in Chicken is pressure cooked for 18 minutes to give it that delicious crispy outside but juicy and tender on the inside.
There are only 2 people that know that know the secret recipe to KFC original Chicken. It is so secret that the mix is made up at 3 different locations.
KFC has a lot of fun things planned for 2012 including the release of recipe book written Colonel Sanders that was just recently discovered. Also be on the lookout for the Chunky Chicken Pot Pies in your local restaurant, we got the chance to have one of these at the headquarters and it was so good that I bought another one as soon as I got back to Oklahoma. For more information on KFC be sure to visit them online. Below is a short video that highlights our trip.

Disclosure: As a participant of the KFC Blogger Tour accommodations, meals, transportation and other gift items were provided. All opinions expressed are strictly my own personal opinion and not influenced in any way.