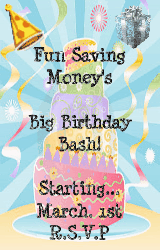 We have a track a few blocks away from my house that is perfect for running, unfortunately I have never had a stroller that is made for running and since I almost always have Aubrey with me I just had to stick with walking, that is until I received my new best friend the
Jeep Overland Limited Edition Jogging Stroller
.
Love to listen to music when you run, but worry about not hearing your child? Both of you can listen to your favorite tunes with Music on the Move® parent tray. Simply attach your own portable audio electronics, like an iPod®, and go.
Features:
iBaby™ sound system easily connects to your iPod® or MP3 player
Soft-ride 16 inch air filled tires. Fixed front wheel for better handling when jogging.
Smart Handle® adjusts to multiple heights
Convenient Free-Stand™ stands upright when folded
Multi-position reclining seat
Large storage basket
Child tray with cup holder
Speed & distance odometer
Adjustable five-point harness, safety tether & reflectors for safety
It's no secret that I have been trying to get into shape before my 30th birthday, but having kids can sometimes make it difficult to fit in exercise. I have been trying to walk a few times a week since the weather has turned warm so I couldn't wait to test out the new Overland Limited Jogging Stroller on the track. I thought Aubrey could care less what she sat in but as soon as she saw us pull the stroller out of the box she was ready for me to take her for a ride.
The stroller came in several different pieces but was super easy to put together. My husband put it together in less than 5 minutes. When it was fully assembled and I started to test it out, I thought that he tightened the front wheel to much because it wouldn't turn. After reading through all of the instructions I learned that this is the way the wheel is suppose to be, so that you have more control when jogging.
I really like the bold orange color of the stroller. I think this would be great for other people to be able to spot you in a large crowd. One of my favorite extra features of this stroller is the speaker system where I can hook up my iPhone and listen to my music without headphones. This is also great because Aubrey likes to listen to the music with me. She loves this because she has so much fun with the breeze blowing on her, while she is able to watch everything and listen to music with mom. I really, really like this stroller and think it is the perfect jogging stroller and will get me even more motivated to start exercising more often. It's so comfortable that Aubrey actually wanted to sit in it while she watched TV after we first set it up.
The stroller is also incredibly smooth when your jogging it is really light weight even with a 30lb toddler in the seat. When we were done jogging I just folded it up and rolled it to the car, I loved not having to carry a bulky stroller to the car. We will definitely be using our stroller as often as we can and I can't wait to try out some of the longer jogging trails around town. GREAT JOGGING STROLLER.


Buy It: You can purchase the Jeep Overland Limited Edition Jogging Stroller for $219.99 online.
Win IT: Silent Auction for a great Charitable Cause:
Kolcraft and K.I.D.S Partnering to help kids in need.
The highest bidder of this auction will win a Jeep Overland Limited Edition Jogging Stroller. All proceeds from this silent auction will be paid to
K.I.D.S
(Kids in distressed situations)
How it works:
Bidding starts at $5 and will increase at bids of $5 increments. To bid, simply leave your comment with your bid amount..please make sure that it is $5 higher than the previous bidder. The highest bidder at the end of the auction will be contacted by email and have 72 hours to respond and make their donation to
K.I.D.S
(Electronic receipt is required as proof). If for some reason the highest bidder does not respond or make their donation, then the next higher bidder will be selected.
This Auction will run until April 1st, 2011 at 11:59pm CST and is open to U.S. Residents (Excluding Alaska and Hawaii) ages 18 and older.
Disclosure: This is a non-paid post and honest opinions were used. All opinions expressed are based on my own experience and may differ from others. Thanks to Kolcraft for providing the products for review and also for providing an additional one for the silent auction.
Like this site? Please Subscribe to Having Fun Saving Money by Email or RSS Feed.

Related posts: