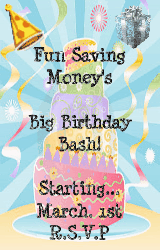 Oklahoma weather is very unpredictable to say the least. One week we had a blizzard with 14+ inches of snow in some areas and then the very next week it was 80 degrees outside. We are really looking forward to spring and being outside more often. This winter has been very long being cooped up in the house for these last few months. Aubrey is finally getting to an age where she wants to be outside as much as possible so I have been on the lookout for more outdoor toys.
Hearthsong recently sent us the Rocking Seesaw!
Rock on! As many as three children can have a rockin' good time aboard this great seesaw that combines two favorite children's rides-a good-old-fashioned teeter totter and a rocking chair-to create a little extra excitement and a lot more fun.Expertly crafted from durable weather-resistant metal with rubber-padded rockers, comfy seats and sturdy handlebars, it will provide years of exuberant riding fun indoors or out, on a soft surface.
Adult assembly required.
For ages 18 months+ to 8 years+.
Maximum weight is 140lbs total or 70lbs for each seat.
I really wanted something that both of my kids could play with together or they could play with by themselves. I have been searching for a good seesaw since last summer and I just hadn't come across one I liked until I saw HearthSong's Rocking Seesaw. The seesaw was delivered in no time and came in a huge box.
Anytime the kids see a big box waiting for us on our porch, they immediately get excited to see what it is. I knew from the size of the box that this had to be the seesaw. My husband was at work and they kids were anxious to play on it so I decided to see if I could set it up myself.
There are several pieces that need to be put together but the instructions are really easy to follow. I have to admit though when I saw how many nuts and bolts that there were I got a little intimidated.
It took me about 1 hour but I was able to put this seesaw together all by myself. The kids were both very excited to play on the it and wasted not time rocking back and forth in the living room. Yesterday it was about 65 degrees so we loaded up the seesaw and put it outside. I was really surprised at how light it is, Jeremy would have no problem moving this around the yard.
This seesaw is perfect because Aubrey can sit right in the middle and rock by herself or if they have a friend over all three of them can play on it at the same time. This makes things much easier as far as sharing toys go. I also really like the colors of the seesaw.
The kids LOVE their new seesaw and it's like they have a playground right in their own backyard. Aubrey is having her birthday party on March 13th and I can't wait to see how much fun all of the kids have while playing on the Rocking Seesaw. This is the perfect gift for your child's birthday or just for any occasion.
Buy It: You can purchase the Rocking Seesaw for $79.99 online.
Win It: One lucker reader is going to win their own Rocking Seesaw!
To enter: Visit Hearthsong and leave me a comment telling me another product of theirs that you would love to have. (This entry must be completed before bonus entries will count)
Bonus Entries:
#1) Subscribe to my blog-3 Bonus Entries
#2) Enter one of my other giveaways
#3) Follow funsavingmoney on Twitter and tweet about this giveaway. You can tweet once per day for an extra entry everyday! Just copy and paste this:
#Win a @hearthsong Rocking Seesaw during the #BigBirthdayBash @funsavingmoney #giveaway http://bit.ly/ermn86 ends4/1
#5) Vote for me on
Picket Fence Blogs
. You can vote x1 per day for an extra entry every day!
#6) Blog about this giveaway and link back to this post and
Hearthsong
-3 Bonus Entries
#7) Place my Big Birthday Bash Button on your blog. (If you did this before 3/1 then you get 3 extra entries, If you did these after you get two bonus entries)
#8) Leave a relevant comment on any non-giveaway post
#9)
Follow me publicly on Google Friend and/or
Networked Blogs
– 2 Bonus Entries for each
This giveaway will end on 4/1 when I will randomly choose a winner and contact them by email. The winner has 48 hours to contact me or a new winner will be chosen. This giveaway is open to US Residents Only.
Disclosure: This is a non-paid post and honest opinions were used. All opinions expressed are based on my own experience and may differ from others. Thanks to the company and/or pr agency for providing me with the complimentary products in order to facilitate my review.
Like this site? Please Subscribe to Having Fun Saving Money by Email or RSS Feed.